The 2018 solar tariff is unfortunate, but solar is still an excellent investment
By: Eric Johnson, Writer, Ideal Energy
The Trump administration recently announced that a decision has been made in the Suniva and SolarWorld trade case. The U.S. International Trade Commission (ITC) sided with Suniva and SolarWorld in deciding to introduce a tariff on imported solar cells and modules.
Industry analysts believe the tariff will negatively impact the U.S. solar industry and future solar customers. The price of solar installations will likely go up, especially for utility-scale projects. Fewer solar projects will be undertaken. And there will be job losses in the industry.
While we're disappointed with the ITC's ruling, we don't think the consequences will be as dire as many in the industry had feared. Furthermore, we believe the benefits of installing solar now – while the solar tax credit is still fully in effect – outweigh the small increase in cost from the tariff.
Starting February 7, 2018, a 30% tariff will be imposed on all imported solar photovoltaic cells and modules. The tariff will decline by 5% per year (25% in 2019, 20% in 2020, 15% in 2021) and expire after the fourth year.
Each year, 2.5 gigawatts of solar cells – but not modules – will be exempt from the import tariff. (A solar module, also called a solar panel, is made of several solar cells. Exempting cells, but not modules, means final assembly on that 2.5 gigawatts would have to take place in the U.S.)
While previous tariffs targeted specific countries – mainly China – this tariff applies to almost all countries. The only exceptions are certain developing nations whose production only accounts for around 3% of U.S. cell and module imports. Those nations lose their exemption if their share of imports exceeds 9%.
This trade remedy is significantly lower than what Suniva and SolarWorld asked for in their trade complaint. They wanted a $0.24 tariff per watt on imported cells and $0.32 tariff per watt on imported modules – nearly double the 2017 spot prices.
History behind the tariff
SolarWorld, along with several other companies, filed its first ITC complaint in 2011 alleging that China was subsidizing solar cells and modules in violation of international trade agreements. The ITC agreed with SolarWorld that China was 'dumping' below-cost cells and modules in the U.S. market, and in 2012 the Obama administration levied tariffs of 30% and up on a number of Chinese companies.
A game of whack-a-mole ensued, with Chinese manufactures moving final assembly to other countries, such as Taiwan, and the Obama administration closing loopholes with additional tariffs.
These earlier tariffs had only short-lived impacts on the prices of cells and modules because Chinese companies moved production to new countries, like Malaysia and Singapore, faster than the U.S. implemented new tariffs.
The most recent phase of this ongoing trade dispute saw Suniva and SolarWorld, two foreign-owned, U.S.-based manufacturers, asking for trade relief in the form of steep tariffs on all imported cells and modules. With the 2018 tariff, they prevailed.
Reactions from the solar industry
Solar industry leaders reacted negatively across the board. The Solar Energy Industry Association (SEIA) issued a statement calling the decision a "loss for America" that "will undoubtedly have negative effects on the industry".
The reason is simple: higher solar cell and module costs are bad for every part of the solar industry except domestic cell and module manufacturers. Higher costs are also bad for solar customers.
The last time a similar trade remedy was used in the United States was in 2002 in the steel industry. The case was similar. The U.S. imposed 8-30% tariffs on imported steel to protect domestic steel production. The tariffs were lifted the following year, around two years ahead of schedule. In spite of their brief duration, the tariffs had a negative overall effect. Research by the CITAC Foundation found that the tariffs actually caused job losses for over 200,000 American steel and manufacturing workers.
Although China's illegal subsidizing of solar panels should not be celebrated or rewarded, the fact remains that tariffs do more harm than good. This trade "remedy" seems particularly misplaced when applied in a fast-growing industry that employs over 260,000 Americans.
PRICE INCREASES
Predictions for the increase in cost of a complete solar project range from around 0% to around 10%, depending on the scale of the project. The bigger the project, the more the tariff will affect it. This is because 'soft costs' like labor and overhead account for a larger share of small projects, while 'hard costs' like modules and racking account for larger share of big projects.
Here are a few of the projections we've seen:
Goldman Sachs predicts costs will increase by 3-7% for solar installations.
ClearView Energy Partners LLC predicts utility-scale installations will increase in cost by around 10% and residential installation prices will go up by 4%. Commercial scale arrays will see cost increases somewhere in between, probably around 6%.
GTM Research's official forecast is that installations will cost an additional $0.10 per installed watt. MJ Shiao, Head of Americas Research at GTM Research, thinks the increase could be as high as $0.15 per watt during the first year of the tariff.
THE 'OPTIMISTIC SCENARIO'
Here at Ideal Energy, some of our staff argue that the cost increase is already 'priced in' and therefore there won't be any increase in costs due to the tariff. During the second half of 2017 we saw the cost of solar modules increase in anticipation of the tariff. Wholesalers raised prices and solar installers stockpiled inventory, reducing supply. These price increases were based on a widespread belief that the tariff would be higher than it turned out to be.
Now that the tariff is here and not as large as feared, it may be that the price won't go up at all. If that's the case, we may see stable prices this year and declining prices once the tariff starts going down by 5% per year.
JOB LOSSES
SEIA predicts the tariffs will cost 23,000 American solar workers their jobs. Many of those workers are in economically depressed areas that need more jobs, not fewer. Although it could have been much worse – SEIA originally predicted 88,000 job losses based on the higher tariff Suniva and SolarWorld asked for – 23,000 is still far too high.
DEPLOYED SOLAR
GTM Research thinks the tariff will cause a reduction in U.S. solar installations of 11% during the next five years. Their model projects 61.3 gigawatts of solar will be installed during that timeframe with the tariff and 68.9 gigawatts would have been installed without the tariff. Overall, that's 7.6 gigawatts less solar in America.
Get specific answers about how panel prices can impact your solar project.
Why the tariff is NOT a disaster
Despite the bad news, the tariff is not a disaster and solar energy remains a great investment. Here's why:
THE TARIFF IS ALREADY SOMEWHAT PRICED IN.
Even if the 'optimistic scenario' outlined above turns out to be a little too optimistic, the increase in module price over the last several months indicates that the tariff is already at least partially baked in. Wholesalers already increased their prices. As stockpiled inventory gets freed up and moves through the industry, supply will go up pushing prices down. Where the price stabilizes this year depends on how much stockpiling took place.
THE TARIFF ISN'T ALL THAT HIGH.
The tariff is not nearly as large as many in the industry feared. It's far lower than what Suniva and SolarWorld asked for. Even at the high end of price increase predictions, the overall cost of a solar installation doesn't increase very much. Solar will continue to be viable for most potential customers.
MODULES ARE JUST ONE COST AMONG MANY.
Solar panels are just one part of a solar installation. Racking and mounting hardware, inverters, taxes, overhead, profit, and labor – especially labor – make up the rest. The National Renewable Energy Laboratory (NREL) data indicate that modules make up only 1/3 of the cost of a typical solar installation in the U.S.
Top: Iowa consignment retail chain Stuff Quality Consignment has installed solar on two of it's seven retail locations.
Last year the NREL estimated the nationwide average cost for a commercial-scale (200 kW) solar project at $1.85 per installed watt. That estimate is based on the spot price for solar photovoltaic modules – around $0.35 per watt in early 2017. The actual price a solar installation company pays is always higher – from $0.65 to $0.73 in early 2017, according to the NREL.
In the Midwest, we typically see an install price per watt a bit lower than NREL's national average.
Image Source: National Renewable Energy Labs
Let's take a 200 kW example project – about the size array you would expect to see on a big box store – and see how the tariff might affect it. On a simple ballasted roof-mount system in the Midwest, we've seen an average price per watt of $1.55 over the past year. This project would cost around $312,000.
HIGH
With ClearView Energy Partners' prediction of a 6% increase for commercial projects, we'd see an increase of $18,720.
PROJECT COST: $330,720
PAYBACK: 5-6 years
INTERNAL RATE OF RETURN (IRR): 21.5%
25 YEAR UTILITY SAVINGS: $541,605


LOW
With our internal 'optimistic scenario' – that the cost increase of the tariff has already been priced in – we would see no increase this year.
PROJECT COST: $312,000
PAYBACK: 4-5 years
INTERNAL RATE OF RETURN (IRR): 23.04%
25 YEAR UTILITY SAVINGS: $548,712
On the highest side of tariff increase possibilities, using ClearView Energy Partners' prediction of a 6% increase for commercial projects, we'd see an increase of $18,720 – for a total of $330,720. This system would pay for itself in 5-6 years, have a 21.5% IRR, and save $541,605 in electrical costs over 25 years. Using our internal 'optimistic scenario' – that the cost increase of the tariff has already been priced in – we would see no increase this year. The example project would still cost $312,000, pay for itself in 4-5 years, have a 23.04% IRR, and save $548,712 in electrical costs over 25 years.
In both scenarios, the business is benefiting from $540,000+ in utility cost savings over 25 years and earning a rate of return that's nearly impossible to replicate in today's markets.
Why now is the right time to invest in solar
Yes, the tariff may increase the cost of a solar installation in the short term. However, as noted above, the predicted impact on residential and commercial projects is low – in the 0% to 6% range. In the next year or two, module prices will likely begin to decline again.
However, the solar investment tax credit will also begin to decline soon. Next year – 2019 – is the last year to take full advantage of the credit. Through the end of 2019 a full 30% of the cost of a solar installation can be deducted. In 2020, the credit drops to 26%. In 2021 it drops to 22%. From 2022 onwards the credit is limited to 10% for commercial projects and falls to 0% for residential projects.
In our opinion, the benefits of the tax credit significantly outweigh the small added cost due to the tariff.
We hope this article helped you understand the tariff and it's impact. However, the information here is far from the last word on the tariff. It will take some time to see where the module price stabilizes this year. We may also see appeals to the ITC or the World Trade Organization. An early reversal, as with the 2002 steel tariff, is also a possibility.
In any case, with or without the tariff, we think solar continues to be among the best investments a homeowner or business owner could make.
Ready for investment-led solar service?
Work with an Ideal Energy expert to discover how solar energy can be an asset in weath management.
When it comes to transportation, the future is electric. What will happen to our utility grid as more and more vehicles become electrified?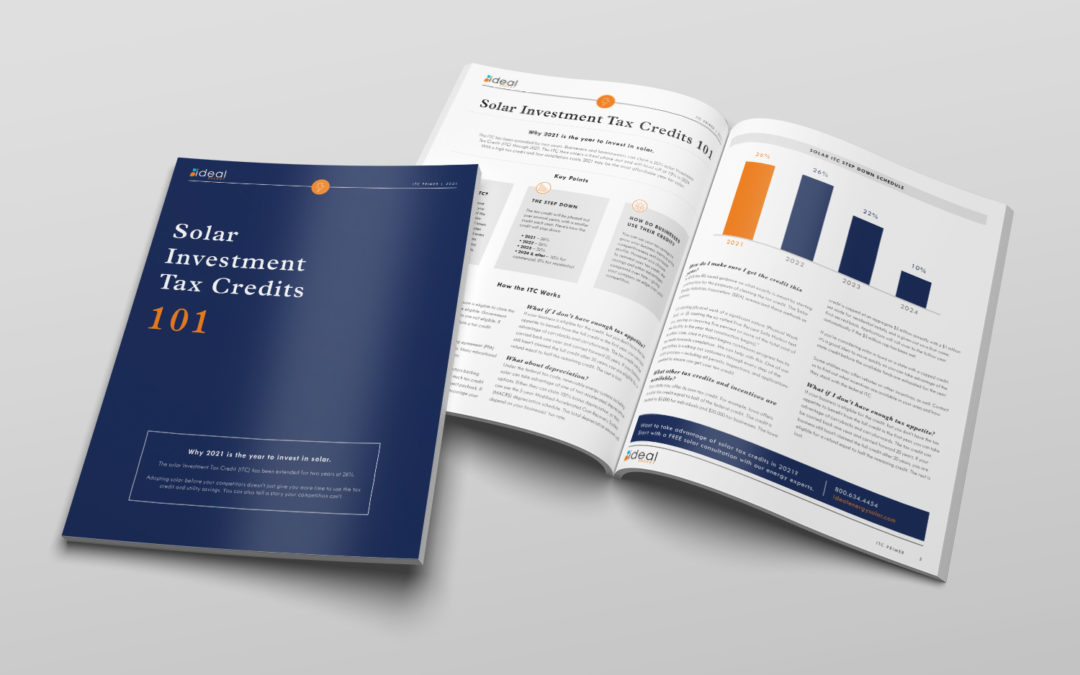 The tax credits have been extended at 26% for 2021! With a high tax credit and low installation costs, this year will be the most affordable yet for solar.